September 19, 2022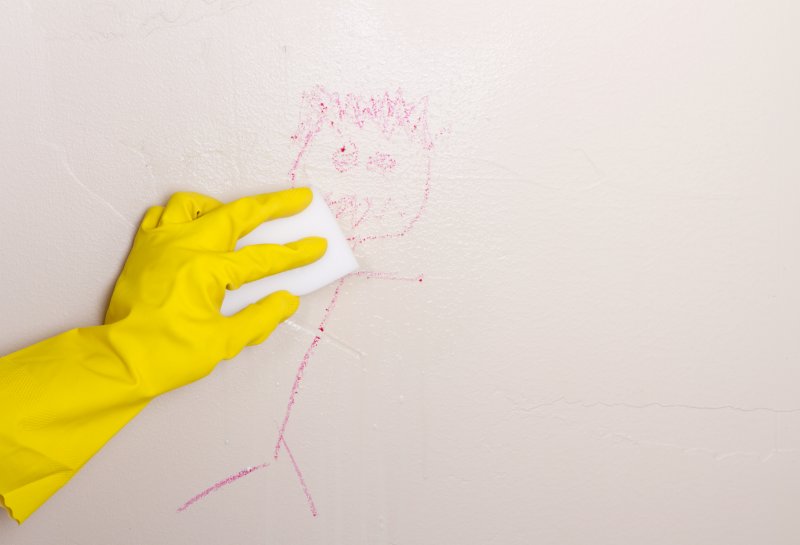 Do you take pride in keeping your home organized, neat, and clean? If so, you probably have a few housekeeping tricks up your sleeve. Regularly mopping your hardwood floors and scrubbing your walls are great ways to keep your home looking beautiful. But have you ever stopped to wonder if you're cleaning your painted walls properly? It's incredibly important to use the right technique as it'll create a healthier environment for your family. That said, here are a few tips for properly and safely cleaning dirty walls.
Dust the Walls
A significant part of cleaning your walls involves removing dust and dirt. The good news is that most of it can be taken off without a cleaning solution – all you need is a clean cloth and a broom! You can put the cloth on a broom and use it to dust the walls. Later on, you can remove more stubborn grime with a cleaning solution.
Take Note of the Paint Finish
Some rooms have painted walls that are more of a matte finish, while others (like the kitchen) may seem shinier. Before cleaning anything, you should take a close look at your walls and figure out what type of finish the area you're working on has. Failing to do so may cause you to accidentally remove paint in the process.
Use the Right Cleaning Solution
Believe it or not, the best cleaning solution for walls is warm water and dish soap. Using a sponge and a bit of elbow grease, you can remove grime without taking off the paint as well. For more stubborn stains like red wine, use hydrogen peroxide. Pour some onto a cloth, press it onto the stain for about five minutes, then wipe away. The stain will come right out!
Spot-Test the Area
Make sure you test your cleaning solution on a small part of your wall. It's necessary to ensure it won't damage the paint or wall. Choose a hidden area like behind a painting or a piece of furniture.
Think About Safety
Turn off the breaker before cleaning! Grime and dirt can easily accumulate around light switch plates and outlet plates. Because of that, you should avoid using a lot of water on your sponge or rag to lower the risk of potential electrocution.
Do Regular Maintenance
While it's good practice to deep clean your walls every now and then, you can keep them looking their very best with regular maintenance. Dusting the walls, spot cleaning, and focusing on high-traffic areas will help your home stay in tip-top shape. These essential practices will keep the accumulation of dirt to a minimum!
Thinking about cleaning your walls? Before you begin, make sure you review the tips outlined above. That way, you can ensure you're going about it safely and properly without putting your paint job at risk!
About Platinum Painting of Keller
At Platinum Painting of Keller, we strive to transform your home into one you'll love. Our skilled and knowledgeable team offers professional house painting services that cover several needs. From single-room interior projects to all-over exterior transformations, we're more than happy to do the hard work for you. For more tips to keep your painted walls looking sharp, visit our website or call (817) 697-0109.
Comments Off

on 6 Tips for Properly Cleaning Your Walls
No Comments
No comments yet.
RSS feed for comments on this post.
Sorry, the comment form is closed at this time.