Exterior Painting – Keller, TX
Give Your Home A Beautiful Makeover
Let's be honest – painting the exterior of a house can be hard work! Not only do you have to deal with tall ladders and delicate windows, but this big project can take up lots of nice weekends where you'd like to be doing just about anything else. At Platinum Painting of Keller, we'd love to help make this transformative process a walk in the park for you and your family.
As a first step, the Platinum Painting team will thoroughly inspect the exterior of your home during an initial consultation to determine what it needs and then draft a personalized written proposal with comprehensive cost information. This estimate comes at no cost to you, whether you end up choosing our company or a different one. We guarantee that our exterior painting services are the ideal marriage of both excellent quality and reasonable pricing.
We can't wait to work together and help your home stand out in the best way possible. Ready to get started? Don't hesitate to contact us today!
Why Choose Us:
Based in Keller
Insured
Satisfaction Guarantee
Serving All of North Texas
What Can We Paint?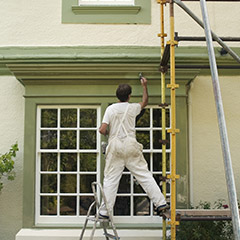 Feeling worried about whether or not the team can handle your house's particular quirks? Don't be. We've truly seen it all before and already know the ideal painting strategies for virtually every type of material, architectural design, and fixture. Our exterior painting services include the following:
Wood
Brick
Composite
Vinyl/Aluminum
Fascia/Eavestrough
Stucco
Decks
Patios
Fence Staining
Railings
Carpentry Needs
And much more!
No Detail Is Too Small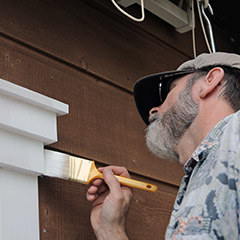 There are a wide variety of factors that must be taken into account when choosing the right paints and colors for the exterior of a home – and Platinum Painting of Keller is very familiar with all of them! For instance, climate (from sunlight to wind to rain) can all wear out exterior paint to some extent over time, and areas that are likely to experience a lot of moisture (such as skirting) will also need special attention. If you have shrubbery, flowers, or colorful trees, you'll want to make sure to select shades that complement those outside elements, and even flaws can be successfully mitigated by drawing the eye away. Trust us – our team will think of everything.
The Steps of Exterior Painting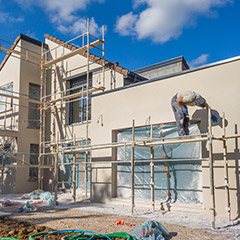 Set Up & Prep – We'll start by power washing all painted surfaces to remove items like dirt, sand, mildew and more, as well as hand scraping to remove loose paint. We do ask that homeowners turn off their sprinklers and remove any outer water plants, art fixtures, and more. To learn more about this process, please visit our Getting Started page.
Priming – We'll always use a high-quality primer to prepare your house for its new paint job and ensure long-lasting improvements.
Painting – The finishing coat will be your chosen shade and gloss level – and it'll help protect your home from the elements as well!
Clean-Up – You can trust our team to always clean up daily (as well as at the end of the project, of course), which includes getting rid of paint chips, packing up materials, and throwing away any trash. You won't even be able to tell we were there at all.
Inspection – Finally, it will be time to give you a tour of your new home exterior and ensure your satisfaction with our work. We can't wait to leave you smiling!
Dedicated Color Consultation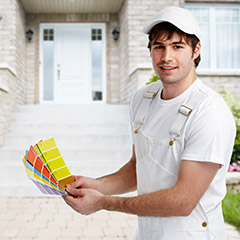 Choosing a new color or stain for your home's exterior can feel like a big decision – and it is! If you're unsure about which shade or tone will best accent the building's best qualities, please don't hesitate to let the Platinum Painting team know. We can provide one-on-one color consulting services and help you reach a final decision that you feel genuinely excited about. The Paint Color Visualizer from Sherwin-Williams is also an excellent tool for exploring different color options to your heart's content.
Frequently Asked Questions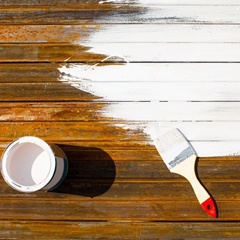 The exterior of your home is important. After all, it's the first thing people see. Whether you're simply inviting over guests or you're looking to sell your house in the near future, you want to make a good first impression. That's why you need to pick the right service company to paint your home's exterior surfaces. At Platinum Painting, we specialize in residential painting projects and have been serving the North Texas area for over a decade. Over that time, we've shown again and again that we can deliver exactly what our homeowners want, leaving beautiful results and happy customers.
Is it ever too hot or cold to paint? What is the best season to paint outside?
At Platinum Painting, we understand that you may need your exteriors painted during tricky times of the year for weather. That's just fine! We're used to dealing with the crazy Texas weather. During the summer months when temperatures can climb to over 100 degrees, it's best if we start earlier in the morning to get ahead of the heat. If temperatures go below 35 degrees in the winter or if it's raining, which it does often during the spring and fall months, we know we won't be able to complete the work to our standards, so we'll need to reschedule.
Should I replace my gutters when I paint?
Absolutely! If your gutters aren't diverting water properly, your house can experience expensive water damage as a result. Your new exterior paint will last much longer and look much better if you replace the faulty gutters around the same time as the exterior painting. Our sister company, Platinum Gutters, can provide this service for you, or we can work with the company of your choice to coordinate scheduling for a smooth process. That way, your home can look amazing and stay protected from the elements for many years to come!
Can you paint metal fences and gates?
We sure can! With over 10,000 homes under our belt, we've painted all kinds of exterior surfaces and know how to approach each situation in a way that will ensure your complete satisfaction. When our estimators come, be sure to clarify exactly which areas and surfaces you want painted so that they can provide you with an accurate estimate for the project. Our team of experienced professionals can give you the look you want for your exteriors, including metal fences and railings.
What prep do I need to do before you start?
To make our job easier, you'll need to do a few things before our team arrives. Please turn off all the sprinklers for the duration of the project. Water can ruin a perfect paint job, and our team doesn't want to get doused with water. Also, please remove anything hanging from the walls and any plants that may be affected by the project. Make sure you keep your pets away from the project area, and be sure to clean up after your pets. If you follow these tips, our team will be able to work more efficiently and get out of your hair sooner!
Can you replace the wood before you paint?
With all the rain, hail, and other crazy weather that we experience here in North Texas, the wood surfaces outside your home can become damaged or rotten from water exposure over time. Although we are primarily a painting service company, our skills go beyond the paintbrush. We also have master carpenters on our team who can replace wood on the exteriors of your home, whether it's HardiePlank lap siding, the fascia, or the soffit. Our satisfaction guarantee still applies to our carpentry, and we'll make sure that your house can withstand whatever Texas weather throws your way.