Popcorn Removal – Keller, TX
Get Rid of Stubborn Popcorn Ceilings
"Popcorn" ceilings were very popular around the middle of the last century, but they're definitely starting to look their age these days. Unfortunately, many homeowners find that the removal of these textured surfaces is not only very difficult but oftentimes dangerous as well because of present asbestos and lead. Thankfully, Platinum Painting of Keller is happy to offer this service to customers from all over Keller and the greater DFW metroplex! Contact us today to learn more and request a free quote.
Why Choose Us:
Based in Keller
Insured
Satisfaction Guarantee
Serving All of North Texas
The Benefits of Popcorn Removal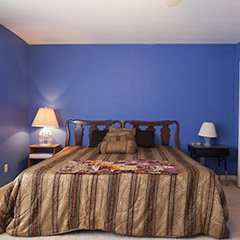 Getting rid of popcorn ceilings and walls can help finally give your living space the sleek, modern look it's been missing. Many of our clients are truly bowled over by how much of a difference it makes! It can also make your home more attractive if you're planning to sell it soon since many buyers will shy away from properties with outdated finishes at first glance.
Popcorn surfaces are also big magnets for a lot of the dust and grime that's floating around the air, especially near the ceiling fans. It's not very easy to clean the rough textures effectively, either. This means that the removal process can not only benefit your aesthetic viewpoint but your family's day-to-day wellbeing too!
The Steps of Popcorn Removal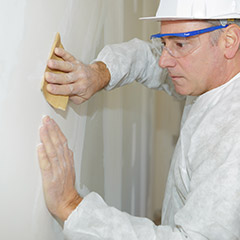 First, we'll take the time to remove all fixtures and light switches from the room. The floors and your furniture will be securely covered as well or moved out of the space.
Our team will use a powerful water gun to spray the walls/ceilings and make sure they're thoroughly soaked before using specialty scraping tools to dislodge the popcorn surfaces in large chunks.
Once we've reached the substrate (underlying layer), this surface will be filled to create a flat, attractive finish, followed by the necessary sanding and priming.
We'll get rid of all removed material through in-depth cleaning and vacuuming. You won't have to worry about any clean-up – our experienced workers handle everything!
What Happens Next?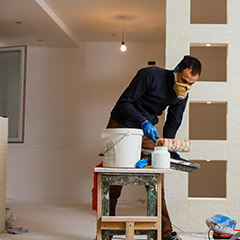 Once the dreaded popcorn has been successfully banished from your home, Platinum Painting of Keller would love to help you explore a brand-new look for your home, whether that involves a texture or a fresh coat of paint! We've got plenty of expert advice to share and can work with you closely to devise the ideal design plan that perfectly offsets and accents every wall of your beloved living space.
Popcorn Ceiling Removal FAQs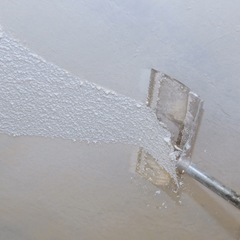 As a residential services company, our team at Platinum Painting can help you with so much more than a coat of paint on the walls. Our ultimate goal is to help you make your design dreams for your home a reality. But before you hire us, you likely have questions about our services. To help you determine whether we're a good fit for you, we've answered some of the most common questions about removing popcorn ceilings. If you have additional concerns or if you'd like to schedule your free estimate, don't hesitate to contact our team. We're always ready to help however we can!
Why should I remove my popcorn ceiling?
At one time, the popcorn texture was very popular with homebuyers, but things have changed. Nowadays, not so much. People tend to shy away from the unappealing, chunky texture of popcorn ceilings and dislike the fact that they can be difficult to keep clean. The only reasons to remove the popcorn ceiling are if it is showing signs of damage and if you want to change the look and feel in the design of your home. Otherwise, you can have your popcorn ceiling for as long as you want. At Platinum Painting, we offer popcorn removal to help you create a more aesthetically pleasing design element of your home.
Will my ceiling be ready to paint once it is removed?
Unfortunately, the process is a little more complicated than simply scraping the popcorn texture off the ceiling. Once we've soaked the popcorn texture, we use our tools to remove the harsh texture. Then the joints will need to be floated using drywall mud. Once it's perfectly smooth, we will add the appropriate texture back on. Then, we'll have to prime the surface before you're ready for painting. Doing this entire process prepares your ceiling so that it become a more attractive element in the room.
How long does popcorn ceiling removal take?
Each room is unique and can impact the duration of the project. However, a small area typically takes about two days to complete the whole process. For an entire house, depending on the size and number of rooms can be treated in three or four days. However, if you also would like us to paint after removing the popcorn ceiling, that will extend the work. When you have your free estimate with one of our Idea Guys, they should be able to give you a more accurate timeline for what you want to accomplish.
What prep do I need to do before you start?
Removing popcorn ceilings can be a messy undertaking. Although we will put coverings over furniture or move it all out of the room as needed, we'd appreciate it if you could remove all your knickknacks and bed linens so that we can get straight to work. Also, you may want to line up a cleaning service to come into your home after we're finished. True, our team will sweep and vacuum the floors, and we do our best to contain the mess. However, the project can create a lot of dust that can be overwhelming for homeowners. If possible, we recommend staying somewhere else, such as a hotel or a friend's house during the project.