Cabinet Painting – Keller, TX
Spruce Up Your Cabinet Space!
While a new coat of paint can leave most rooms looking better than ever, many homeworkers find themselves stumped when they reach the kitchen. As you most likely know, kitchen renovations can be extensive, time-consuming, and come with a big price tag attached, especially if you're considering the installation of brand-new countertops and cabinets. At Platinum Painting of Keller, we'd love to let you in on a secret – professional cabinet painting can give your kitchen a fresh, outstanding shine for only a fraction of the cost. Don't hesitate to contact us in Keller, TX if you'd like to explore this service further or request a free quote.
Why Choose Us:
Based in Keller
Insured
Satisfaction Guarantee
Serving All of North Texas
What Can We Paint?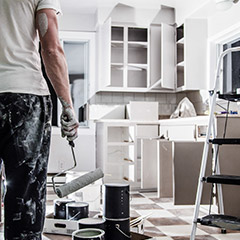 Of course, our services aren't just limited to typical cabinet spaces that hold bowls and plates! We're happy to take on any configuration and location, no matter how challenging or hard-to-reach, providing reliable, high-quality results that are truly meant to last. Our offerings include the following:
Kitchen Cabinets
Center Island
Bathroom Cabinets
Garage Cabinets
And much more!
The Cabinet Painting Process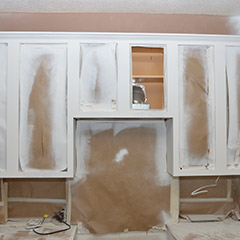 At Platinum Painting of Keller, we want to achieve the look you want for your cabinet spice at a price point that suits your family's budget. There are a couple of different painting methods available for cabinets. Our top recommendation is spray painting, which creates a smooth, hard surface that gives off the appearance of brand-new cabinets! We'll always take the time to ensure that this new finish is beautifully even and consistent with NO unseemly blemishes or drips. Multiple coats of high-quality paint are applied as well so that the results have true staying power.
Alternatively, "brush and roll" paint is another option and is carried out just like how it sounds – by rolling and brushing the paint onto your cabinets. While this technique isn't quite as smooth as spraying, you'll see receive attractive, refreshed cabinets with a reduced price tag to boot.
Painting Cabinets or Resurfacing Cabinets?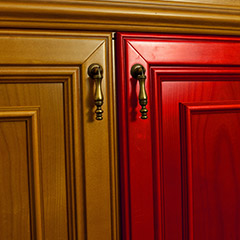 We are happy to offer both painting and resurfacing services for cabinets. These options each have their own unique perks, and the final decision should rest with the homeowner's priorities and personal vision. Here are some reasons why cabinet painting may be the right choice for your home:
Painting typically takes a shorter commitment of time and is less disruptive to your living space since all of the existing cabinet structures will remain safely in place.
This approach is greener and less wasteful than resurfacing – there won't be any materials going to the dump, nor the creation of new hardwoods.
On average, cabinet painting is less expensive than resurfacing, which makes this service a worthwhile investment if you're already happy with their overall design and aesthetic.
Cabinet Painting FAQs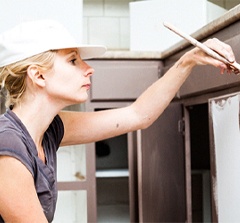 As home improvement experts, we know just how important your cabinets are in your kitchen or bathroom. These high-traffic areas can set the tone for your entire home and help you create the kind of environment you want for you and your family. Partnering with Platinum Painting means that you don't have to worry—you can know that you'll love how your "new" cabinets turn out. Even with this assurance, you may have questions about this particular service that we offer. Here are some of the most asked questions that we get from homeowners about cabinet painting. If you think of other questions that we left out, we invite you to contact our helpful team.
Is there a difference between cabinet repainting and refinishing?
There is a big difference between these two services. As the word suggests, repainting involves changing the color of the cabinets with coats of paint. Refinishing, on the other hand, entails re-staining or resurfacing the cabinets to completely alter their style. Overall, repainting tends to be less expensive, less time consuming, and less impactful on the environment. However, you're looking for a dramatic change, refinishing may be the right choice for you. Just keep in mind that it costs more and takes longer to complete the project than repainting. If you're unsure which method you should pick, our estimators and other team members would be happy to provide advice!
Do I need to clear coat over the paint to protect the cabinets?
Most of the time, we strongly recommend against putting a clear coat over painted cabinets. To put it simply, the chemicals from the paint and the clear coat can react with each other, giving the cabinets a more yellowy appearance. At Platinum Painting, we use the appropriate techniques and primers to keep your cabinets looking like new for a long time. By utilizing these high-quality products, we can avoid the need for a clear coat and give you the exact look you're wanting for your cabinets.
How long does cabinet repainting take?
A rough estimated timeline for cabinet repainting is about two to three days, but that number can fluctuate depending on several factors, including the number and size of the cabinets. Also, if you're looking to refinish the cabinets instead of repaint them, the project will take longer to complete. Please keep in mind that we advise that you avoid using your cabinets for a few days afterward for best results. During your free estimate, we can give you a more accurate timeframe for accomplishing your specific project.
What prep do I need to do before you start?
Before we can begin working on improving your cabinets, we ask that you remove items from the cabinets. If we are not painting the inside of the cabinets, just the outside and the doors, you may leave the items there, but keep in mind that they may need to be washed after we've completed the project. After all, we will be sanding and making a little bit of a mess. Your best bet is to store these items away from the work space. Also, try to have the area as clutter free as possible. If you take a few minutes to do these simple things, our team can get straight to work as soon as we arrive at your house. We look forward to the opportunity to beautify your home!