House Painting – Keller, TX
Transform Your Home For The Better
What if you could wake up in a house tomorrow that looked newer, cleaner, and perfectly suited to your chosen aesthetic? At Platinum Painting of Keller, we love making this goal a reality for our clients! Our professional house painting services cover a comprehensive variety of needs, from relatively small, single-room interior projects to all-over exterior transformations. Every step of the way, we'll be taking the time to ensure a reliably high level of quality and confirm that your unique goals and preferences are being met, down to the very last detail. Ready to learn more? Contact our Keller, TX location today!
Why Choose Us:
Based in Keller
Insured
Satisfaction Guarantee
Serving All of North Texas
Why Should You Paint Your Home?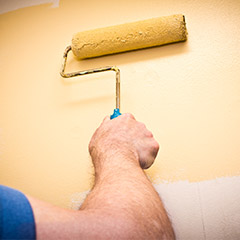 Painting your home's exterior and interior can do much more than simply give it a new color or shade. There are real, valuable benefits to investing in a professional house painting project, such as:
Enhanced Curb Appeal & Resale Value – Studies have shown that exterior/interior painting can actually increase the overall value of your property and make it more attractive to onlookers.
Lasting Protection – Keeping a coat of quality paint on your home's outer walls helps protect it from damaging moisture and harsh weather like snow, while interior painting resists wear and tear better.
Minimize Dirt & Dust – Painting inner surfaces is a great way to keep the dust levels lower, especially when you have plaster walls.
Inexpensive Remodeling – If you're ready for a big change but don't quite have a big enough wallet for knocking down walls and replacing expensive fixtures, painting is an excellent alternative for creating a whole new look in a budget-friendly way.
The Benefits of Professional Painters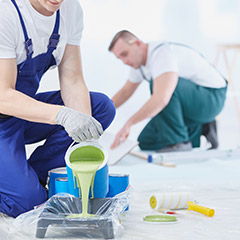 So you're ready to give your home a fresh, new coat of paint – why not just do it yourself? While DIY projects may sometimes work out fine for tiny updates, we believe that hiring a professional, trustworthy company like Platinum Painting of Keller is the best way to ensure that your final results exceed expectations. Here is just some of what you can look forward to when you hire us:
Our team has the proper paints, tools, protective gear, and safety equipment to carry out your personal vision smoothly every time – no exceptions.
We're trained in the latest painting techniques and best practices, allowing for swift and proficient improvements.
We do much more than just paint – our team will also take care of any holes, cracks, stains, scuffs, and other imperfections we find along the way.
Best of all – there's no clean-up stress! We'll take care of everything, allowing you to simply enjoy your beautiful, updated home.
Comprehensive Painting Services From
One Trusted Company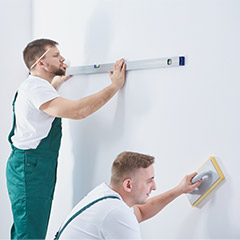 At Platinum Painting of Keller, we're proud to have found our niche in house painting, offering clients from all over Keller and the greater DFW metroplex the ability to transform their houses in custom-tailored ways. Better yet, by specializing in both exterior and interior services, homeowners can trust in just one company to handle even the most extensive projects – no additional, lackluster hired hands or draining DIY attempts required.
Our commitment to providing the best of the best extends to our suppliers, too. We use top-brand Sherwin-Williams paints and primers for lasting results, as well as all of the essential brushes, rollers, and high-quality tools that make a painting project wholeheartedly successful. If you're ready to start exploring your dream home makeover, don't wait – contact us today!
House Painting Frequently Asked Questions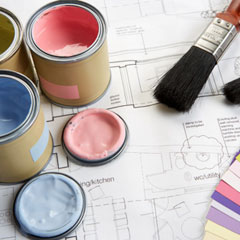 As homeowners ourselves, we understand that choosing a company to come work on your home is a big decision. As you weigh the options for service companies for home improvement, you want to make sure you choose an experienced, reliable team that will deliver results that you'll love. When it comes to painting, we make sure you're completely satisfied with our work and our service from the very first phone call. To help you decide on the best painting company for your home, we've provided the answers to some common questions that our customers have asked us in the past.
How many houses have you painted?
Since opening our doors in 2008, we have painted over 10,000 homes all over North Texas. As a result, our professional team is very experienced in the industry. Many of our team members have been with us since the beginning of our company—that's over a decade of expertise dedicated to helping you with your specific painting project however big or small. We've seen and done it all and know how to deliver what our clients want. Satisfying each client has always been our first priority, so you can bet that we'll attend to every detail and give your home the respect it deserves throughout the process.
What prep work do I need to do before you start?
To make the painting project run more smoothly and to protect your possessions, you need to do a few things beforehand. For interior painting, take paintings or pictures down from the walls and remove items from areas where we will be working, including knickknacks from tables or mantels and clothing from closets. Also, remove baby or pet gates before we get to your house. For either interior or exterior painting, keep your pets safely away from our work areas and please clean up after them. If we're painting the exterior of your house, please turn off your sprinklers to keep our team and your beautiful paint dry, and if you have anything on the exterior walls, please remove those items.
Is there an advantage to painting interior and exterior at the same time?
Absolutely! Tackling multiple painting projects at once can help you save time and money for this type of home improvement. For example, after we apply the first coat of paint in all the rooms inside, we can start on the exterior paint. After all, paint takes time to dry, and while we wait, we can conquer the next step in the process. Also, if inclement weather occurs, we can still make progress in the project by addressing the interior painting. All of these tactics help us use our time more efficiently and get us out of your hair as quickly as possible so that you can enjoy the results sooner.
What type of paint do you use?
As a locally owned and operated company, we at Platinum Painting are focused on meeting the individual needs of each customer. As a result, we are flexible in the paint brands and types, easily adapting according to your preferences. However, if you don't have a specific paint brand or store that you want us to use, we have an established relationship with Sherwin Williams and have appreciated their quality and pricing, and so that's where we predominantly source our paint. For interiors, we use their Cashmere Interior Acrylic Latex paints. On the outside of your house, we typically utilize SuperPaint Exterior Acrylic Latex for the best results.