April 12, 2022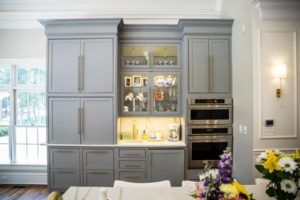 Orange—it's a vibrant, fun color. You can even brighten up a space by putting it on a wall, but some colors just do not work on kitchen cabinets. If you don't want to cause flashbacks to kitchens in the 60s and 70s or some other decade, you need to select your kitchen cabinet color wisely.
Various colors of cabinets have had their day, but what if you don't want to choose a passing fad? What if you want your cabinets to stay in style for many years? Here are five classic colors to pick from to paint your kitchen cabinets.
White
Nothing brings a refreshing tone to the kitchen like clean, crisp white cabinets. Not only does this color make the space seem more airy and light, but it also goes well with basically any other color, as many neutrals do. Also, this color complements basically any style you want—traditional, modern, farmhouse, you name it!
If a true white doesn't appeal to you, consider an off-white or a warm or cool version of white that might have the same effect but feel more unique or stylized to your taste.
Gray
Like many shades of white, gray is a neutral that pairs well with most colors and styles, but it can add depth to the space. More specifically, dark gray cabinets can elevate the sophistication of the kitchen without forcing you to commit to a complete black tone. Plus, the dark shade helps to hide little scuff marks or other flaws from everyday use.
Black
Are you looking to make a real statement with your kitchen cabinets? Consider choosing a black paint. This deep, rich color makes the kitchen a chic center of your home. If you don't want to go completely black, you could have the bottom cabinets black with the upper cabinets a contrasting neutral color. Or you can choose to paint the island black.
Navy Blue
Navy is a color that has withstood the test of time. The amazing facet of this color is that it makes wood and metal finishes (like copper or brass) pop. In the kitchen, that means your faucets, handles, and other features get some attention too!
Sage Green
If you want to step away from the neutrals but still pick a safe kitchen color, you may want to consider sage green. It continuously stays in favor with designers, and it helps to bring in a naturally calm feeling. For those who want just a hint of this color, it is very popular for islands cabinetry as well.
In the end, your cabinets can turn your kitchen into either a time capsule or a timeless space in your home. Going with a classic color is the way to go if you want to keep it updated now and 20 years down the road.
About Platinum Painting of Keller
Platinum Painting of Keller is owned and operated by Karl and Marjorie Pickens, who live in Keller. We serve communities throughout North Texas and have painted more than 12,000 homes since we opened our doors in 2008. We are happy to paint walls, ceilings, cabinetry, brick, and other surfaces. To learn more about our services, you can contact our Customer Care team by calling us or reach out to us online here.
Comments Off

on 5 Timeless Colors to Consider to Paint Your Kitchen Cabinets
No Comments
No comments yet.
RSS feed for comments on this post.
Sorry, the comment form is closed at this time.