May 28, 2020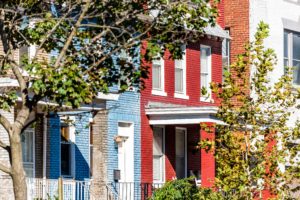 Have you driven past a painted brick home and dropped your jaw at how modern and clean it looked? Before you decide to transform your own home by painting the exterior brick of it, it's a good idea to weigh the pros and cons. For some, the work to upkeep the results isn't worth the effort. For others, the boosted curbside appeal is worth every ounce of their time investment. Read on to learn whether painting your brick home is worth it.
The Benefits of Painting Your Brick Home
Brick homes have a classic look, but that's not what appeals to everybody's eye. If you'd like to transform your home but don't want to spend tens of thousands of dollars, painting the brick is a great option. This project can truly make your home feel completely new and offer it a curbside appeal that's timeless. For a statelier look, you can choose a shade of white, or for a modern and dramatic look, perhaps gray. You can get some other ideas by going onto online blogging and idea sites, such as Pinterest.
Reasons to Be Cautious of Painting Brick Homes
Painting your brick home is irreversible, so it's important to be 100 percent sure that this is what you want before committing to the project. This isn't really a con, but it's something that's incredibly vital to consider. Depending on the color of paint that you choose, painted bricks can look dirtier than natural brick, so you will need to dedicate a decent amount of time to clean and pressure wash the outside of your home to preserve the results. Many homeowners are hesitant to commit to painting the brick exterior of their home because of the future financial investment; you'll need to repaint every five to seven years to prevent any cracking, peeling, or collection of moisture.
The Importance of Always Getting a Professional Painter's Help
Brick is an incredibly tricky surface to paint, and without the proper equipment and know-how, you may end up with questionable results if you're a rookie painter. Because it's the entire exterior of your home and painting brick is irreversible, one mess up could jeopardize the whole project, so it's best to consult and hire a professional painter instead. That way, you end up with results that you feel proud of and that truly boost the curbside appeal of your home.
If you have questions about painting the exterior brick of your home or would like to learn more, don't hesitate to call a professional for an evaluation. They will be able to give you all the information you need to make an informed decision that you feel confident in.
About Platinum Painting of Keller
At Platinum Painting of Keller, we have a team of experienced and professional painters that are dedicated to helping homeowners achieve the best possible results. We offer a variety of home-transformation services, including interior and exterior painting. For questions or to schedule a free in-home estimate, visit our website or call 817-422-0985.
Comments Off

on The Pros & Cons of Painting Brick Houses
No Comments
No comments yet.
RSS feed for comments on this post.
Sorry, the comment form is closed at this time.