April 6, 2020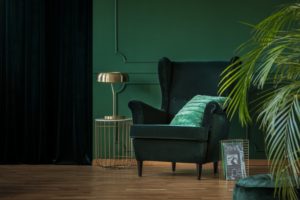 If you're looking to refresh your living area or another part of your home with a fresh coat of paint and some new décor, you've likely got a thousand ideas swirling in your mind about how you want it to look. You seem less focused on the new paint color trends and more focused on whether you should use a color coordination method to match the furniture to the walls. Read on to learn some different ways that you could coordinate the color of your paint to your décor to make sure that it looks great.
You Can Never Go Wrong With Neutral
When people think of the word "neutral" in terms of paint colors, they immediately think of beige and off-white. While these are neutral color trends, there are plenty of other options out there for you to choose from! Some of these include every shade of gray, deep reds, neutral blues that are reminiscent of nature, and even light lilac and pink. These colors are great choices if you're considering selling your home down the road as well, because they're easy to match with any type or color of furniture.
Contrasting Colors Let Your Boldness Show
If you're more of an adventurous decorator and really want your personality to show in the way that you remodel your room, you can experiment with contrasting colors. First, assess all of the fixtures in your home that are permanent and choose a color that will pair with them nicely, for example, the color of your wood floors. Taking a look at a color wheel can help you determine which shades of different colors will pair nicely. Keep in mind that the ones opposite each other are contrasting. You can choose one color to be the main one for the paint for the room and the other contrasting color to be the theme of your furniture. One great example of this is a blue armchair with orange walls.
Monochromatic Color Blocking For a Clean Look
If you're someone who enjoys a clean look that incorporates a variety of colors, you can choose a monochromatic color theme. This means that the color of your walls and your furniture is generally the same, but can be in a variety of shades. The overarching theme of the room will come together nicely, but the slight differences in the color of the art on your walls, area rug, and couch will add nicely planned variety. Some great colors to work with when you're considering using this look are blue and gray.
There are hundreds of paint color trends out there, so it can be overwhelming deciding which one you like best at first. That's why it's a good idea to consult with a professional painter. They can even help you decide which route to go in terms of the color of furniture that you choose for the room as well! With their help, you'll be able to create a room that's everything you hoped it would be!
About Platinum Painting of Keller
At Platinum Painting of Keller, we offer a variety of services for residential homes, including interior and exterior painting, wallpaper removal, and cabinet painting. Our team works hard to help achieve the image that you have in mind for a room so you can feel completely satisfied with the results. For questions or to schedule a free in-home estimate, you can visit our website or call 817-422-0985.
Comments Off

on Should You Coordinate the Color of Your Furniture To Your Walls?
No Comments
No comments yet.
RSS feed for comments on this post.
Sorry, the comment form is closed at this time.