January 14, 2022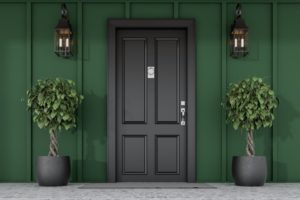 In 2022, you may want to tackle some home projects. Perhaps you're getting your house ready to put on the market, and you want it to stand out from other listings. Maybe you simply want to enjoy what you see when you look at the outside of your home. It's the perfect time to address the exterior paint so your house provides a beautiful, welcoming sight.
In any case, it can be helpful to know about exterior paint trends from designers. Keep reading to learn what's in style right now and how you can give your home a fresh, new look!
Warm Neutrals
Some colors keep coming back into favor again and again, and warm, comfortable neutrals fit in this category. These cozy off-white shades can be used inside or outside the house, and they can be used with many other colors for a clean, yet relaxed environment.
White
Along with creamy off-whites, true white tones are high in popularity for exteriors right now, whether using it as the primary color or a highlight. If you choose true white, it doesn't necessarily mean it will be blinding. There are plenty of shades that are more subtle and gentle, yet still striking, which is perfect for a house exterior.
Darker Hues
Looking for something classic with a dramatic flair? A darker shade of gray or gray-green hues strike the perfect balance. These moody, bold colors aren't too heavy, and work well with wood tones and stone, creating a warm, homey atmosphere.
Natural Green Tones
Do you find nature soothing? Do you want to bring some of that calmness home? Right now, green—the quintessential color of nature—is the top choice for paint color by designers. If you don't want natural tones, the good news is that most green hues are trending, giving you plenty of options for making your home unique and comfortable. Green also complements a variety of neutrals, enabling you to easily create a timeless look.
Why the Right Exterior Paint Matters
What if you plan on being in your house for many years, you still need to think about keeping your home updated for resale. The exterior paint doesn't just make your house pretty, it also serves as the first layer of protection against the weather. By having the paint in good condition, you show that the house has been well care for, which will help you eventually attract more buyers.
Even though the paint will go on the outside of your house, it can create a welcoming feeling before you set foot inside. When you choose colors that are on trend for the exterior, you set the tone for the rest of your home!
About Platinum Painting of Keller
Platinum Painting has been the #1 company for residential painting on Angi in the Dallas-Fort Worth area for nearly ten years now. The company began in Keller and has since spread to serve homeowners throughout North Texas. At every stage of the process, from our free, in-person estimates to the final inspection after painting, we focus on customer satisfaction above all else. If you are interested in getting a quote for your next exterior painting project, contact Platinum Painting of Keller, today!
Comments Off

on Watch for These 4 Exterior Paint Trends in 2022
No Comments
No comments yet.
RSS feed for comments on this post.
Sorry, the comment form is closed at this time.