January 29, 2021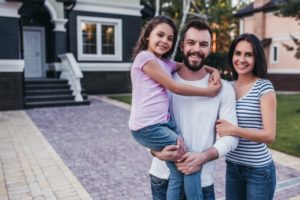 Even though you see the outside of your house every day when you park your car in the driveway after getting home from work, you may never question when the last time you painted your home was. Eventually, the exterior coat of paint will look run-down and grungy, but an even more worrisome concern is that it could put the outside of your home at-risk for issues like water damage. Read on to learn some of the signs it's time to paint your house again and about what could happen if you don't.
What Causes Exterior Paint to Deteriorate?
The outside of your house has to endure a lot of weathering from rain, snow, wind, and scorching direct sunlight, so it makes sense why it starts to crack and look dingy after awhile. If it has been longer than you can remember since you last repainted your home, it's a good idea to do an inspection of it every couple of weeks to determine when it's time to repaint.
How Often Should You Repaint the Exterior of Your Home?
It's recommended that you should repaint the outside of your house every five to 10 years, depending on where you live, the climate and weather in your location, the quality of the previous paint job, and whether you have trees, leaves, or landscaping that could impact your paint.
Signs That You Need to Repaint Your Home
There are several signs that could alert you to the fact that you need to repaint the outside of your home. These include:
Warped siding can occur when moisture has accumulated on your home (due to cracked and chipped paint) and is then exposed to direct sunlight and heat.
Blistering and bubbling pain happens when the paint begins to pull away from the wall and the adhesives in the substance have disintegrated.
Peeling can be a direct result of sunlight exposure and can get worse over time.
Cracked or stained stucco happens when moisture is able to penetrate the outside of your home.
Fading paint is usually a direct result of bleaching from intense sunlight exposure.
Mildew sets into the exterior materials that your home is made out of when moisture doesn't evaporate. It's important to repair these damaged areas, because painting over them will allow it to come through again.
If you notice any of these issues on the outside of your home, it's a good sign that it's time to repaint. With a fresh coat of paint, not only will you be boosting the curbside appeal of your home, but you'll also be providing the exterior building materials with much needed protection from the constant onslaught of the elements.
About Platinum Painting of Keller
At Platinum Painting of Keller, our team is dedicated to achieving the best results by never cutting corners and working closely with homeowners so their ideal results become a reality. We come completely bonded and insured, providing peace-of-mind and assurance that no additional hassle or stress will fall into homeowners' hands. We also provide a satisfaction guarantee with all of our projects, so homeowners can trust that they'll be receiving the best results. For questions or to schedule a free estimate, visit our website or call 817-422-0985.
Comments Off

on Is it Time to Repaint Your House? Here's How to Tell
No Comments
No comments yet.
RSS feed for comments on this post.
Sorry, the comment form is closed at this time.