November 28, 2020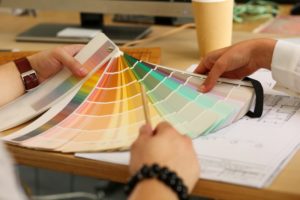 Choosing paint for your home is a difficult task to take on, especially considering the thousands of different shades, colors, and multiple finishes that you'll need to pick from. If you've finally managed to narrow down your choices and are ready for testing paint colors, you'll need to know how to achieve the best results so you can be sure that you're making the right decision. Read on for five tips for testing paint colors.
Don't Paint Directly on Your Wall
Even though testing your paint colors directly on your wall may seem like the easiest method, this will actually create even more work for you. Be sure to not paint directly onto your walls until you've made a final decision on what color you want to use. Instead, create sample boards out of small pieces of drywall that you can tape onto your walls to showcase the samples of each color.
Wait Until It's Completely Dry to Decide
Before settling on one paint color over another, make sure that all of your samples have completely dried. Sometimes, a cured paint can look different from a wet one, once the additives have evaporated and only the pigment is leftover.
Use Online Paint Testers
Have you ever tried using the online paint testers in painting stores or on your laptop at home? These aren't just convenient and easy, but they can also help you narrow down your results even further by showing you a computer model of a room that looks similar to the one you want to paint online. From there, you can choose the color and get a good idea of how your room will look after it's painted.
Consider Your Décor and Permanent Fixtures
One factor that some homeowners forget to consider is their décor, furniture, and permanent fixtures in the room, like baseboards, crown molding, or lighting. Consider whether you're looking for a paint color that will allow your furniture to make a statement or one that will add more personality and "umph" to your home.
Check the Sample at Different Times During the Day
Once the paint sample has dried, you should still keep it up on your wall for a few days and revisit it throughout them to see what it looks like at dawn and dusk, and while it's overcast and sunny. Paint colors can vary greatly throughout the day, and you'll want to make sure that you love it all the time, not just when it's illuminated by the morning or evening light.
With these five testing tips, you'll be able to settle on a paint color trend that you feel 100 percent sure about. If you have any questions or concerns, feel free to contact your painting contractor. They'll be able to provide you with some additional expertise!
About Platinum Painting of Keller
At Platinum Painting of Keller, our team of professional painters only works on residential properties, making them true experts in their specialized fields. We offer a variety of services to help update and customize your home just how you like it, including kitchen cabinet painting and interior and exterior painting. To learn more about how our team can help make sure that your project turns out just the way you want it to, visit our website or call 817-422-0985.
Comments Off

on 5 Tips for Testing Paint Colors
No Comments
No comments yet.
RSS feed for comments on this post.
Sorry, the comment form is closed at this time.