October 31, 2020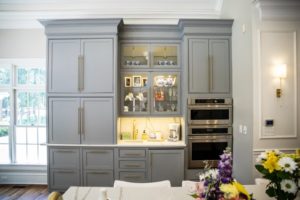 Are you tired of seeing the same old outdated kitchen cabinets that were there when you first moved into your home? Today, many homeowners are choosing a couple of simple and cost-effective ways to update their homes and turn their kitchen into a statement piece. Cabinet painting and staining are both great, easy alternatives to changing the vibe of your kitchen. Read on to learn more about some factors to consider before you decide to paint or stain your cabinets.
Easy Ways to Transform Your Kitchen Without Breaking the Bank
Today, many homeowners are choosing to update the appearance of their kitchen by transforming their cabinets, including painting or staining them and changing the hardware. This can completely alter the feeling of your kitchen while being a manageable project to take on with a strict budget. Before investing in one option over the other, be sure to weigh the pros and cons of each of your options.
The Pros & Cons of Cabinet Painting
If you're looking for a clean, modern pop of color for your kitchen, paint can be the best way to achieve that. If you're not a fan of marks on the appearance of grainy wood and want a more seamless set of cabinets, this method of renovation is ideal. Here are some of the pros about choosing to paint your cabinets instead of staining them:
You have hundreds of colors to choose from
Offers a more modern appearance
Can last for up to 10 years
More resistant to water
Unfortunately, there are also a few features that some homeowners consider to be downsides about painting your cabinets, including:
May cost more
More prone to cracking
Less forgiving when it comes to painting mistakes
Removes the rustic and natural look of grain and knots in wood
The Pros & Cons of Cabinet Staining
For homeowners who prefer a more natural and warmer look in their kitchen and enjoy a more traditional looking kitchen, staining your cabinets may be best. In some cases, this can be the less expensive option. Here are some pros of staining your cabinets instead of painting them:
Traditional, natural look
Can cost less
Maintain their appearance for decades
Easier to touch-up
Some cons of staining cabinets include:
Shows all wood blemishes
Doesn't look good on plywood
Makes dust more visible
At the end of the day, choosing between painting and staining your kitchen cabinets depends on your preference. The best place to start is by looking at before and after photos and checking out online idea boards, like Pinterest. You can also consult with a professional painter in your area for more details on the process!
About Platinum Painting of Keller
At Platinum Painting of Keller, our team of professionals strives to exceed each of our customer's expectations and provide amazing results. We offer a variety of home-improvement services, including popcorn ceiling removal and cabinet painting, and are happy to answer questions and concerns along every step of the way. To schedule your free in-home estimate, you can visit our website or call 817-422-0985.
Comments Off

on Should You Paint or Stain Your Kitchen Cabinets?
No Comments
No comments yet.
RSS feed for comments on this post.
Sorry, the comment form is closed at this time.