August 27, 2020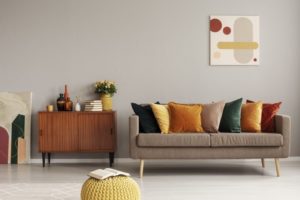 For many people, the living room is the heart of the home, where they host family get togethers, play with their children, and watch the latest binge-able Netflix series and relax. Because it's one of the most high-trafficked areas in the home, it's important to be mindful of the type of paint you get for the project as well as making sure that the color and style fit your personality and needs. In short, it's all about keeping the space functional while still adding your own personalized touch to make it feel like home. Read on to learn four helpful tips to paint your living room.
Brainstorm The Feel You Want the Room to Have
The best first step to take is to sit down and brainstorm the feel that you want the room to have. A great way to do this is to make a vision board. Basically, this is a collage of cutouts that you found from furniture magazines, interior decoration websites, creative idea boards, and even the paint store, all adhered to a poster board. This will help you narrow down your color selection and you can show it to your professional painter to help them get a better idea of how you imagined the final results to look.
Never Go Wrong With Neutral
Neutral may not be everyone's go-to option because many people associate these colors with "boring". You may be surprised to know that neutral doesn't just mean every shade of beige and brown, but it also includes black, gray, light blues, and greens. These colors are modern, sleek, clean, and if you ever wanted to sell your house, you probably wouldn't need to repaint! Neutral walls also allow you to add impactful pops of color throughout the area that really brings them out.
Pick an Easily Cleanable Paint Sheen
If this is your first time ever picking out paint, then you may not be aware that there is an entire spectrum of paint sheens that you can choose from in addition to the color. Matte paints are the least shiny and typically used for low-traffic areas, like bedrooms, because you likely won't need to clean them. The best types of paints to use in the living room are semi-gloss, eggshell, and satin. These can be easily cleaned and are resistant to scraping and scuffing, so they'll continue looking amazing for years to come.
Always Consult Your Professional For Help
If you're on the fence about anything along the way, it always helps to reach out to your professional painter. They've seen countless homes redecorated and repainted, so they can provide you with valuable insight on what will work with your unique space and what may not.
With these four tips for painting your living room, you can feel more confident going into the project. Being prepared and planning ahead is crucial for a project this big, so as long as you take these steps, you'll be able to achieve amazing results that make your living area truly feel like home!
About the Author
At Platinum Painting of Keller, we offer interior painting to help spruce-up and redecorate your home to make it your own. Our professionals have been painting homes for years, and are happy to offer guidance, opinions, and advice along every step of the way. We take pride in our work, which is why we also offer a satisfaction guarantee. For questions or to schedule a free estimate, visit our website or call 817-422-0985.
Comments Off

on Interior Painting 101: Preparing For Your Living Room Transformation
No Comments
No comments yet.
RSS feed for comments on this post.
Sorry, the comment form is closed at this time.