July 30, 2020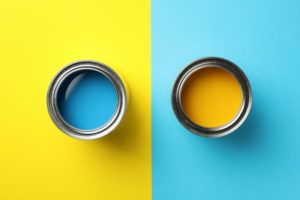 Are you in the midst of picking out paint for your home but wondering "Is there a difference between exterior and interior paint?" Many homeowners are surprised to find out just how many different types of paint there are, making it confusing and difficult to choose the perfect one for your project. Read on to learn about these two types of paint and what projects they're made to take on.
The Basic Components of Paint
All paints contain key, basic components that provide them with the properties that everybody's so familiar with, like their color and the way the spread and stick to walls and surfaces. These are called pigments, solvents, additives, and resins. In latex paints, the solvent is water, while oil-based paint has a mineral spirit solvent. The water makes latex paint look wet, and as it dries, the water evaporates and leaves the lasting ingredients, like the pigment which gives it its color, and the resin, which adheres the paint to the wall. In both interior and exterior paints, the solvents and pigments have many similarities.
Exterior vs. Interior Paint
Both water-based and oil-based paints can be used outdoors, while oil-based paints typically aren't used for interior painting for a variety of reasons, including the dizzying odor. Even though there are many small differences between the two types of paint, the primary one is the resin, or adhesive.
For exterior paints, it's important that they're able to adapt to different temperatures, stand up against elements, and resist fading and peeling that could make your home susceptible to water damage. That's why the resins used in these types of paints are softer and more flexible than latex paints, which dry and become rigid. That's why interior paints are able to resist scuffing and can easily be cleaned!
Why You Don't Want to Use Interior Paint Outside
There are a couple of main reasons why you don't want to use interior paint on outdoor surfaces and vice versa. First, interior paints aren't made to stand up against the constant onslaught of UV rays, so you'll likely notice it quickly fade and peel away. Due to the added resins and oil base used in exterior paint, using it indoors will release chemicals into your home, without any way of getting out. These paints will continue to do this over the years in small amounts and may even contain mildewcide.
If you're unsure of where to start when it comes to choosing the right paint for your home, consult with a professional. They have the knowledge and experience necessary to help you achieve the best, longest-lasting results with fewer complications than if you'd do it yourself.
About Platinum Painting of Keller
At Platinum Painting of Keller, our professionals are dedicated to providing help whenever you need it, including second opinions on colors and paint suggestions that best fit your project's needs. We offer a satisfaction guarantee and are completely bonded and insured, providing you with peace of mind that you'll be happy with the results. For questions or to schedule a free estimate, visit our website or call 817-422-0985.
Comments Off

on Interior vs. Exterior Paint: What's the Difference?
No Comments
No comments yet.
RSS feed for comments on this post.
Sorry, the comment form is closed at this time.