June 3, 2020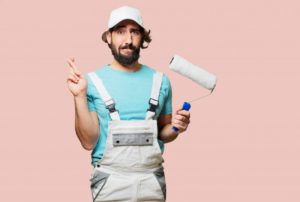 Do you want some helpful tips for painting your walls? Homeowners often attempt to take on the task of refreshing the interior of their home with a fresh coat of paint. While it sounds like a fun project, there are some common mistakes the people often make, causing them to waste valuable energy, time and money that they invested into the project. Read on to learn about three oversights homeowners often make while interior painting.
Not Preparing the Surface Properly
Before the paint job can begin, it's vital to properly prepare the surface to ensure that your results last and the paint doesn't highlight dirt of damage on the wall. Any flaws on the surface need to be addressed first, because as soon as you paint over them, they'll become more visible and completely ruin the transformation. It's also vital to clean the walls, because dust and lint can also become trapped and dry underneath the paint, causing your walls to permanently appear dirty. Even though you may examine your walls beforehand and not notice anything, it's likely there and will become visible as soon as you begin painting.
Be sure to always thoroughly wash your walls before painting them and take the time to repair any damage. For latex paint, the best way to do this is with a sponge, non-abrasive all-purpose cleaner, and warm water.
Rushing the Job
Homeowners often underestimate how massive the task of interior painting is. Be prepared to dedicate hours and days completing the process in order to achieve the best results. Halfway through the project, some people tend to rush through the following paint coats or cut corners by skipping them altogether. This can create all kinds of problems, including:
Splattered paint in areas where it doesn't belong.
Crooked edges and corners.
Patchy or thin areas of paint that shows the original color underneath.
These can all completely ruin the effect that you were going for and can even make your walls look even worse than they did before. Be sure to hire a professional who will take their time and methodically plan the project to ensure your satisfaction.
Using Cheaper Materials
The paint itself is one of the most important parts of your project. Typically, the cheaper the paint, the lower the quality of the materials used to make it. This means that it likely won't continue to look good for very long because it isn't as durable. Overall, saving an additional $20 or $30 to purchase a cheaper paint isn't a great idea. Instead, invest in a quality brand recommended by your professional painter as being reliable.
With help and guidance from an expert residential painter, you can ensure that your final results are exactly as you expected and will last for years.
About Platinum Painting of Keller
Our team of residential painting specialists is highly skilled and knowledgeable, allowing homeowners to rest-assured that they'll get the best results possible. We're also bonded and insured for homeowners' peace of mind. As the leading professional painting team in the DFW area, we provide the highest quality of home-improvement services, such as interior and exterior painting. For questions or to schedule a free in-home estimate, visit our website or call 817-422-0985.
Comments Off

on 3 Interior Painting Mistakes To Avoid
No Comments
No comments yet.
RSS feed for comments on this post.
Sorry, the comment form is closed at this time.