March 9, 2020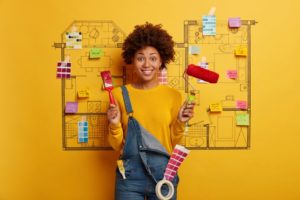 When you look around your house, does it lack a modern touch? Do you feel like it's decorated to reflect who you are? Working on your home to make it your own seems like a huge task, but there's no better time to start than at the beginning of a new decade. Along with the new year, 2020 has brought popular home decoration and paint color trends. Read on to learn how you can refresh your home and make it your own in 2020.
Refreshing The Home With Shades of Green
Green is a symbol of prosperity, freshness, and nature, which resonate with so many people in 2020. That's why every shade of paint and decoration from blue-green to dark-emerald is flying off the shelves. When you think of green, you're probably imagining the primary color green that's bright and stands out. However, it's not this shade that's popular in 2020, it's more so those muddy and complex shades of green that have several different color undertones that can compliment and make a variety of other colors pop. Some examples of popular green colors being used in 2020 are:
Neutral grays with green undertones
Muted green/blues with gray undertones
Mid-toned greens with blue undertones
Dark warm greens with brown and yellow undertones
Embracing Cool & Warm Blues
Navy and other shades of blue are also emerging in 2020, looking to make a clean and crisp splash into homes. Over the last decade, these blues have already been popular, but what's different about this decade is that the popular shades are warmer and less light. They often have undertones of violet and yellow. White with blue undertones are also being used to create a more calming and clean-looking room.
Bringing in Beige & Gray
The color gray has always been a great way to modernize a space, but it can also look cold. That's why warmer shades of beige with gray undertones is becoming the star of the show in 2020. In addition, people are opening up to grays with other earthy undertones, such as brown. These colors help create a natural, modern, and organic feel in a room. They also act to lift up decorations and allow other cool tones to pop in a room.
If you're stuck on what 2020 painting trend you want to use in your home, be sure to consult your professional painter. With the right guidance, you can choose the color that best fits your unique personality, and create a space where you feel comfortable and at-home.
About Platinum Painting of Keller
Our team is passionate about helping homeowners create a space that's uniquely their own. That's why we'll remain with them throughout the entire process, so our help is available whenever they need it. We solely focus on residential painting, allowing us to master our art and offer the best support to homeowners looking to tackle a project. For questions or to schedule a free in-home estimate, visit our website or call 817-422-0985.
Comments Off

on 3 Decoration & Paint Color Trends of 2020
No Comments
No comments yet.
RSS feed for comments on this post.
Sorry, the comment form is closed at this time.