February 5, 2020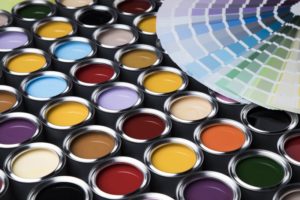 Paint is everywhere we go, on the surface of walls, the outside of buildings, and even on furniture to give a room an extra pop of color. It is able to serve a variety of purposes, including fun decoration, protection, and even for sanitary reasons, but few people know what happens behind the scenes to make it what it is. If you're wondering "how is paint made?" read on to learn what happens along every step of the way before it gets put on your walls.
How is Paint Made?
Paint consists of four main ingredients that give it all of the qualities that people are familiar with. These include the pigment, resin, solvent, and additives that make it easy to brush on a wall. Paint is typically made in large batches of anywhere from 750 to 37,000 gallons, depending on whether it's special product or mainstream white and neutral paints. The process of making paint can be broken down into five main parts.
Measuring The Ingredients
The ingredients included in pain are measured by weight on either large scales, calibrated vats, or graduated measuring containers. Accuracy of measurement is an incredibly important part of making a quality paint.
Preparing the Mill-Base & Dispersing Pigment
Pigments are typically in the form of powder, which makes them easily clump and stick together. Before they can be added to the paint, they need to be wetted by resin and additives. This will keep them from adhering to each other.
The dispersed pigments are slowly added to a rotating mixer with liquid paint components in it to form the mill-base. Depending on the type of pigments, they may need to be dispersed using ball milling, bead milling, or bar milling.
Adding the Let-Down
In a separate and larger vat, the resin, solvent, and additives are combined together and mixed, creating the let-down. Once the let-down and mill-base are both finished, the mill-base will be stirred into the let-down, and any final additions that need to be added in will be combined.
Lab Testing
To ensure that the paint is the right consistency and color, the ingredients, mill-base, and let-down may all be tested separately to ensure that they're correctly made and sufficiently mixed. Once the batch of paint is completed, it will be tested by a special laboratory to test its dispersion, viscosity, density, tint, strength of color, dry time, gloss, dry film appearance, and application.
Hitting The Shelves
After all of the testing has been completed, the paint will start being canned. During this step, samples will be taken and stored in a special case for future reference and a final inspection. After all of the paint has been canned, it will be transported to the warehouse and dispatched to paint distributers around the nation.
After the paint hits the shelves, your professional painter in Keller will pick it up and prepare your home for its transformation! With a high-quality paint and experienced painter, you'll be able to rest assured knowing that you can enjoy the beautiful results for years to come.
About Platinum Painting of Keller
At Platinum Painting of Keller, we take pride in helping homeowners transform their space through interior and exterior painting, wallpaper removal, and popcorn ceiling removal. We're bonded and insured and offer our patients a satisfaction guarantee because we know our quality of work meets high standards. For questions or to schedule a free in-home estimate, visit our website or call 817-422-0985.
Comments Off

on How is Paint Made?
No Comments
No comments yet.
RSS feed for comments on this post.
Sorry, the comment form is closed at this time.