December 30, 2019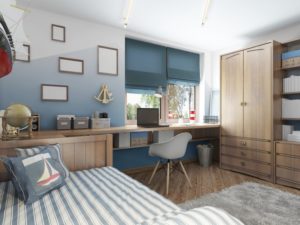 While redecorating a child's room sounds like a project that's all fun and games, it tends to be a more stressful task to take on than many parents think. When you consider the big picture, it seems like the only thing you need to do is pick out a new paint color. However, when you get down to it, there are other questions you need to be asking yourself, like "will my child like this color in two years?" or "should I hire a professional painter or do it myself?" Here are five tips to paint your child's room and do it right the first time.
What Colors Are Good For A Child's Room?
Different color schemes can have an impact on your child and provide a certain feel to their room. For example, bolder colors such as orange can help energize the area, while colors with undertones of green, blue, and purple can help it feel calmer and restorative. Some other great colors to help comfort and relax your child are light purples like lilac and lavender, pinks, and neutral Earth tones like brown and taupe.
If your child is old enough, don't think twice about asking them what color they'd like their walls to be! That's always the best place to start!
Should You Do A Wall Mural?
If you're on the fence about painting a fun wall mural, be prepared to have extra paint to cover it as your little one's taste changes. They're an interesting way to make the room exciting, creative, and artistic, but it's a good idea to employ a professional to do it so it doesn't turn out looking strange, weird, or downright bad.
How Can You Divide Space In a Room Using Paint?
You can make your child's space feel larger by dividing it with paint in different ways. To encourage sleeping, play, and relaxing, you can paint different areas of the room in different colors. However, it's a good idea to find ones that don't clash or make the room feel jarring. Asking a professional painter for advice on how you can do this is a good place to begin.
What Can You Add To Compliment Your Child's Room?
While a fresh coat of paint can do wonders for your child's room, it may not achieve everything you hoped for. To add more variety and compliment the new wall color, consider adding accessories or decorations that make your child feel at home, like posters, photos, fun cushions, and rugs.
Should You Hire a Professional Painter or do the Work Yourself?
Hiring a professional from the start is always the best way to quickly tackle a project and achieve high-quality results. If you feel as though you're up for the challenge, you'll need to be prepared to sand, fill, clean, and tape the area before you even get to running a paintbrush over the wall. When you hire experienced professionals, you won't be taking a gamble on the outcome and can rest-assured that once it's done, you won't have to go back, start over, or redo the room.
Decorating your child's room can be a fun experience, as long as you know what you're getting yourself into. There are several factors to consider before you begin painting a wall. As they grow up, the room you've created for them will turn into a space where they learn, play, sleep, and relax with friends, so it's important to do it right the first time around!
About Platinum Painting of Keller
At Platinum Painting of Keller, we have a highly experienced team of painters that are guaranteed to provide you with satisfying results. Our team has painted thousands of homes and offers a variety of additional services to help upgrade and improve your home. From the free in-home estimate to the final color consultation, we'll be with you through every step of the way to minimize the stress of the process. For a free cost estimate, visit our website or call 817-422-0985.
Comments Off

on 5 Factors to Consider Before Painting Your Child's Room
No Comments
No comments yet.
RSS feed for comments on this post.
Sorry, the comment form is closed at this time.