November 15, 2019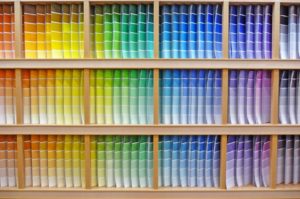 You're standing wide-eyed in front of a wall of paint chips, completely bewildered at the number of options you have to choose from. Then, you turn and realize that you'll also have to select the sheen, brand. Many overwhelming questions can roll around in your head: "What's the difference between eggshell and semi-gloss? Which shade should I choose? How do I pick out paint and know it's the right one?" Well, in this post, we present questions that can guide you to the right decision for your home.
Am I painting interior or exterior surfaces?
This may seem like an obvious question to answer, but it can help narrow down your choices in multiple ways. Paints specifically designed for exteriors are meant to withstand the elements, so obviously you'll want to focus on that type. On the other hand, if you're painting interior surfaces, there are specialized paints for these spaces.
What sheen do I want?
The sheen of a paint refers to the amount of shine that it has once it's dry. A semi-gloss paint is easier to clean, making it preferable for spaces and areas where messes are more likely to happen, such as the kitchen or bathroom or trim surfaces. Eggshell or flat paints hide flaws better, perfect for exterior walls and low-traffic rooms.
Do I want white walls?
Despite the thousands of other color choices available, white continues to be one of the most popular options for interiors. But that doesn't mean that it is an easy decision to make. There are many kinds of white available, so you need to be prepared to find the right one for your home.
What color do I want?
Warm, neutral palettes are your best bet for exteriors; however, blues and grays are also becoming more popular. So if you're painting exterior walls, you can stick to these colors of paints. If you have an HOA, make sure you review their approved colors for exteriors to make sure that you stay in compliance. The last thing you want to do after painting is paint it again!
For interior surfaces, you have much more freedom in terms of color choice, but you need to keep in mind that certain colors can help inspire certain feelings. For instance, blues, greens, and grays tend to evoke calm, which comes in handy for bedrooms. Reds and yellows are vivacious and interesting, meaning that you may want to consider these colors for dining rooms or other rooms intended for entertaining.
When you think you've found the one you want, make sure that you take home a sample and try it out on the wall first. Although picking the right paint for you home can be tricky, answering these questions can lead to you a paint that you can love for a long time. Also, remember that you don't have to make this decision by yourself. If you team up with home painting professionals, they can provide valuable insight and help you find the perfect paint for your spaces.
About Platinum Painting of Keller
Platinum Painting was first opened in Keller in 2008 by Karl and Marjorie Pickens and has been expanded to help homeowners all over North Texas. With any painting project, they offer a free color consultation with one of their experience team members. During this at-home meeting, homeowners can get helpful advice and feel more confident in their color choice. To schedule your free, written, in-person estimate, you can click here.
Comments Off

on 4 Important Questions to Ask to Pick Out Paint with Confidence
No Comments
No comments yet.
RSS feed for comments on this post.
Sorry, the comment form is closed at this time.