October 22, 2019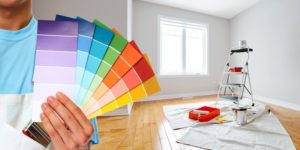 When you first moved into your house, you swore that you would eventually change the wall colors. They aren't to your taste, and you want to make your new house feel more like your comfortable home. For one reason or another, you haven't done it yet, and the thought of tackling this project feels overwhelming. What color(s) should the rooms be painted? Does the gloss really matter, and which one should I use? What do I want my guests to feel when they come over? In this blog post, you'll get the answers to these questions through these four tips for picking interior paint.
Choosing the Sheen
With options ranging from flat all the way to high gloss, it can be confusing to know which one is right for your home. Well, the truth is that certain rooms may need a glossier finish, while others are just fine with a flatter finish. In general, the more sheen in the paint, the easier it is to keep the walls clean. That's why kitchens, bathrooms, and other high-traffic areas (particularly with young children) are typically painted with a semi-gloss or higher. A guest bedroom or the living room may be less likely to require a glossy finish, which can highlight imperfections on the walls. Determine how much activity the room will likely have so that you can choose the appropriate sheen.
Deciding the Room's Atmosphere
What will the room be used for? What kind of feeling do you want to have when you walk into the room? These are important questions to ask, because the answers can influence the color and design of the room. For example, you may want your bedroom to feel relaxing and calming, but you want your guests to appreciate an elegant, vibrant dining room. As a result, you should choose color schemes that fit the atmosphere you want to create in those spaces.
Picking the Color(s)
After you determine the tone you want for each room, then you can choose the colors. With so many color options out there, picking just a few can feel overwhelming and difficult. If you're planning on selling your home soon, you may want to consider neutral colors, which remain popular because of their ability to appeal to more people and their flexibility in room design. If you are struggling to narrow down your options of paint color, you can consult with an industry expert, get insight about popular trends, and find the perfect shade for your spaces.
Creating Focal Points
Believe it or not, you can create design focal points using paint. Would you like to make a room feel larger? Use a slightly deeper shade with white trim and white ceiling. Want to highlight one wall in particular? Choose a lighter shade for all the walls, except one darker wall. These slight variations can change the tone of a room and create a unique space.
If you use these tips and partner with the right painting company, choosing the right paint will be a much easier decision, one that you can make with confidence. Whether you plan on staying in your house for the next 20 years or you are listing it soon, you can get the results you want when you choose Platinum Painting of Keller.
About Platinum Painting of Keller
In 2008, Karl and Marjorie Pickens opened Platinum Painting right here in Keller. Every client can take advantage of a free color consultation, in which a team member comes in person to provide advice on color options and any other questions. Our estimators are also very experienced and can give insight on the types of paint you may need for your spaces. Interested in scheduling your complimentary in-home estimate? Just click here.
Comments Off

on 4 Tips for Picking Interior Paint for Your Home
No Comments
No comments yet.
RSS feed for comments on this post.
Sorry, the comment form is closed at this time.