September 25, 2019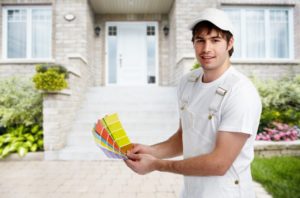 As you open your front door to greet your guests, you catch a glimpse of the exterior paint and realize that it's time to repaint. Maybe you're looking for a change and want to make a statement. After all, you don't want your home to look exactly like the ones around it. But what color should you choose? With thousands of options to pick from, this decision can quickly become overwhelming. It doesn't have to be this way! In this post, you'll learn six tips that can make picking an exterior paint color easier.
Take Your Time
Unlike the interior of your home, which can easily reflect your personal style and tastes, above all else, the exterior of your home needs to be durable to withstand the elements. The paint can be the first line of defense for the largest investment you make. It's okay to take time deciding on the paint color because it will ideally last a long time.
Budget for High Quality
By choosing top-tier brands, you can make sure that your exteriors get the necessary coverage and protection. Opting for lower quality paint will likely mean chips, fading, or repainting much sooner than you'd expect. It is worth the extra investment to get results that you'll love for years to come.
Consider Permanent Materials
If you have brick or stone work in the foundation or accents on the house, make sure that your exterior paint color works with and not against those tones. If you're unsure how to pair colors, you can try opposite color temperatures. If you have red brick and you want brown, you can choose a shade that has gray or blue undertones rather than an orangey tan.
Complement Trim
A great way to make your exterior paint stand out in the best possible way is to highlight the trim in a color that's a few shades darker than the exterior walls. Or you could paint the trim white and choose a vibrant color for the walls. These options can bring a subtle, yet elegant look to the outside of your home.
Use Technology
Many paint manufacturers now use online tools that allow you to alter the paint colors of uploaded photos. As you decide on the paint color, take advantage of these resources, so you can more easily imagine what the finished product will look like.
Get Expert Help
When painting your home's exterior, it's important to partner with a residential painting company that is committed to your satisfaction. As a result, you can collaborate with industry experts to select the perfect color that will make you want to invite more people over.
Your exterior paint can make a powerful first impression on those who see it and help keep your home in top shape for years to come. As you follow these tips, you can feel proud of how your home looks. To get started on painting the exterior, contact a service company that you can trust and that has a proven record of satisfying customers.
About Platinum Painting
Platinum Painting has painted over 10,000 homes throughout North Texas. To help customers decide on paint colors, they offer a free one-on-one color consultation. With Sherwin Williams' Paint Color Visualizer, customers can get a clearer idea of how colors would look. To schedule your free estimate with Platinum Painting, call (817) 697-0109 or click here.
Comments Off

on 6 Tips for Picking an Exterior Paint Color
No Comments
No comments yet.
RSS feed for comments on this post.
Sorry, the comment form is closed at this time.